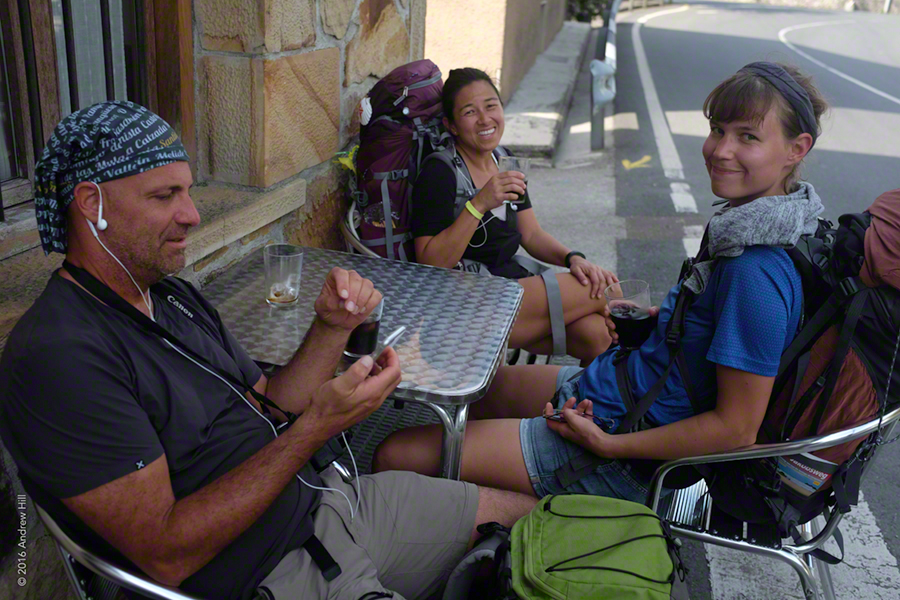 Camino del Norte – Day Five: Ibiri to Zenaruzza (the monastery @)
OK, when was the last time I hiked for five days straight?
It's been a while; I think maybe sophomore year in high school. I certainly feel the years between, and the rocky paths between the flat roads that we encountered today.
Today was a big one: 31.5k, from 7:15am to 4:45-5pm.
This was one of the harder stages of this area, because there's no food and very little water available for long stretches (16k was the longest between). We stocked up on food yesterday: two baguettes, cheese, ham, apples, chocolate, bread sticks, and a few other goodies.
At 21k, after the longest hard stretch, we found a bench and made our own little bocadillos, with lettuce, olive oil, vinegar, ham and cheese. Pretty freakin' awesome, actually. It was great to be able to share, too; Nicola and Juliana showed up about 20 minutes later, and Nicola was hurting. Valentina sped past us shortly before they arrived, and seemed intent on burning through the day's walk (she arrived at tonight's digs about 3:30, and we arrived around 5.) Anyway, back to the sandwiches, which were very important. We all chowed down, then spent the afternoon walking together.
Among the sites we saw was a really unique hexagonal hermitage, built around three giant boulders. The pews were arranged around the walls, and the pulpit faced the door from the center, between the rocks. Behind the pulpit was the virgin, with her back to the cheap seats (this was a phrase I explained to Juliana, which she quickly picked up, and pointed out how the 'cheaper seats' along the side only got a view of the side of the boulders.)
We also saw a HUGE (and really creepy) quarry above the town, visible throughout our walk. It was ominous, and particularly strange in that the giant blocks cut from it left marks that looked like bricks, making it look like a giant's castle looming over the town. In one picture I caught a person standing on the edge of one of the quarry walls, for perspective.
Later on we stopped at a little tavern for Coke and ice, which was just about the best thing on the planet at that point. We decided that all four of us wanted to try sleeping in the monastery at Zenaruzza tonight (donations, and 20 beds, although our room only has 9… hmmm.)
We finished up the day very tired, happy at the long distance, and grateful for the shower, even if it's a little janky. Not sure how we're going to dry our clothes (the ones still sweaty and the ones we washed in the shower with us), especially if it rains tomorrow.