Camino del Norte Day Five: Social hour
One of the many continuing conversations I've been having with myself over the past few days has been about other walkers. I obsess about their backpacks (what brand is it? How many liters does it hold? Does it look full? Does it have a rain cover?) and their apparel, especially footwear ( How can she wear denim shorts–isn't that chafe city? Boots or trail runners?), and of course, how fast are they walking? I know this is not a healthy line of thinking. This is not a race, after all. But then…why does it feel like it is?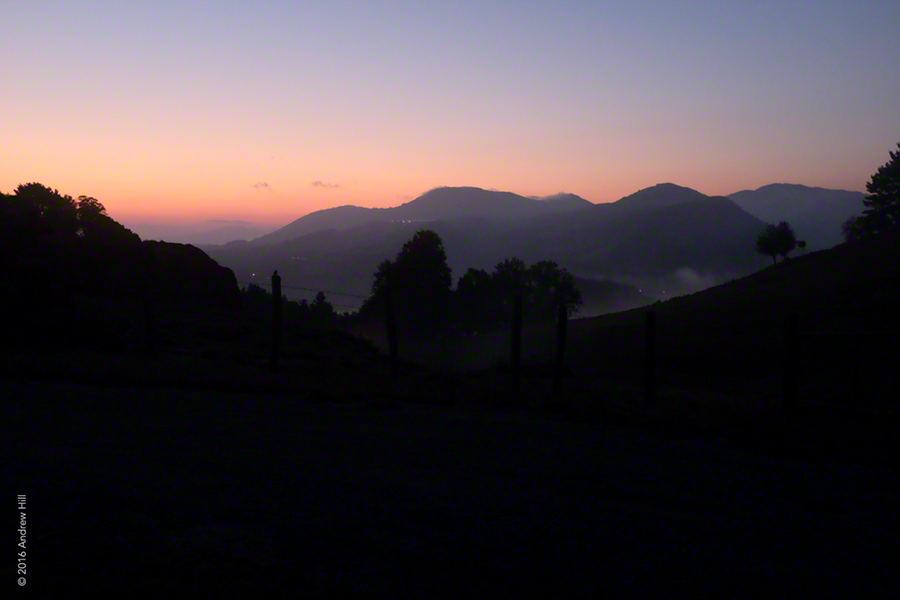 We began this morning right before sunrise, stepping out of the albergue before anyone else. It was so quiet and beautiful, and we were up in the mountains, above the clouds. I was enjoying the time with just us. But then, we began to hear the others from the hostel start to gain on us. So of course, we sped up. But eventually they passed us. A little while later, we passed them. This is the way it works–there is a steady flow of peregrinos all walking the same path toward the same destination. When you stop at an albergue for the night, you kind of become part of a little pod of pilgrims on a similar schedule. And all day, you leapfrog each other. When one subset of the pod stops to eat, another subset passes them. That subset takes a selfie by the side of the road and gets passed by someone else. And so on, until you stop at another albergue–sometimes with the same subsets as the night before, and sometimes not. Today, we stuck with our same pod from last night. Leapfrogged for most of the day, then ended up just hiking together for the afternoon until we got to this monastery. I'm still trying to figure out if I like hiking with people other than Andrew. Some parts of it are kind of nice, like knowing you've got backup in case something happens. Or entertaining each other during boring parts, like when Juliana began humming songs that we tried to guess (she was really good at the humming). But some parts stress me out, like am I going too slowly or too quickly for everyone else? Or what if I don't want to talk to anyone–will they be offended if I put my headphones on? And then, the thought that this is my Camino–why should I justify how I want to walk to anyone else? Oy vey.
By now, I am pretty much at the end of my social tolerance. The hermit in me is screaming a little bit for alone time. So it is actually a relief to go to Vespers (the monks allow pilgrims to stay here and receive a meal for free, but gently suggest that we attend Vespers before dinner. A small token of thanks for their hospitality.) The service is held in a mix of Basque and Spanish. The monks give us a little hymnal with which we can follow the service and, hopefully, join in on the responses. Needless to say, the pilgrim section is noticeably silent during the service, but we stand and sit at the appropriate times and dutifully listen to the monks and parishioners sing. It is hypnotic and surreal, the ancient stone of the church echoing with the music, and the altar glittering. I am surprisingly refreshed afterward, and better able to get through dinner.