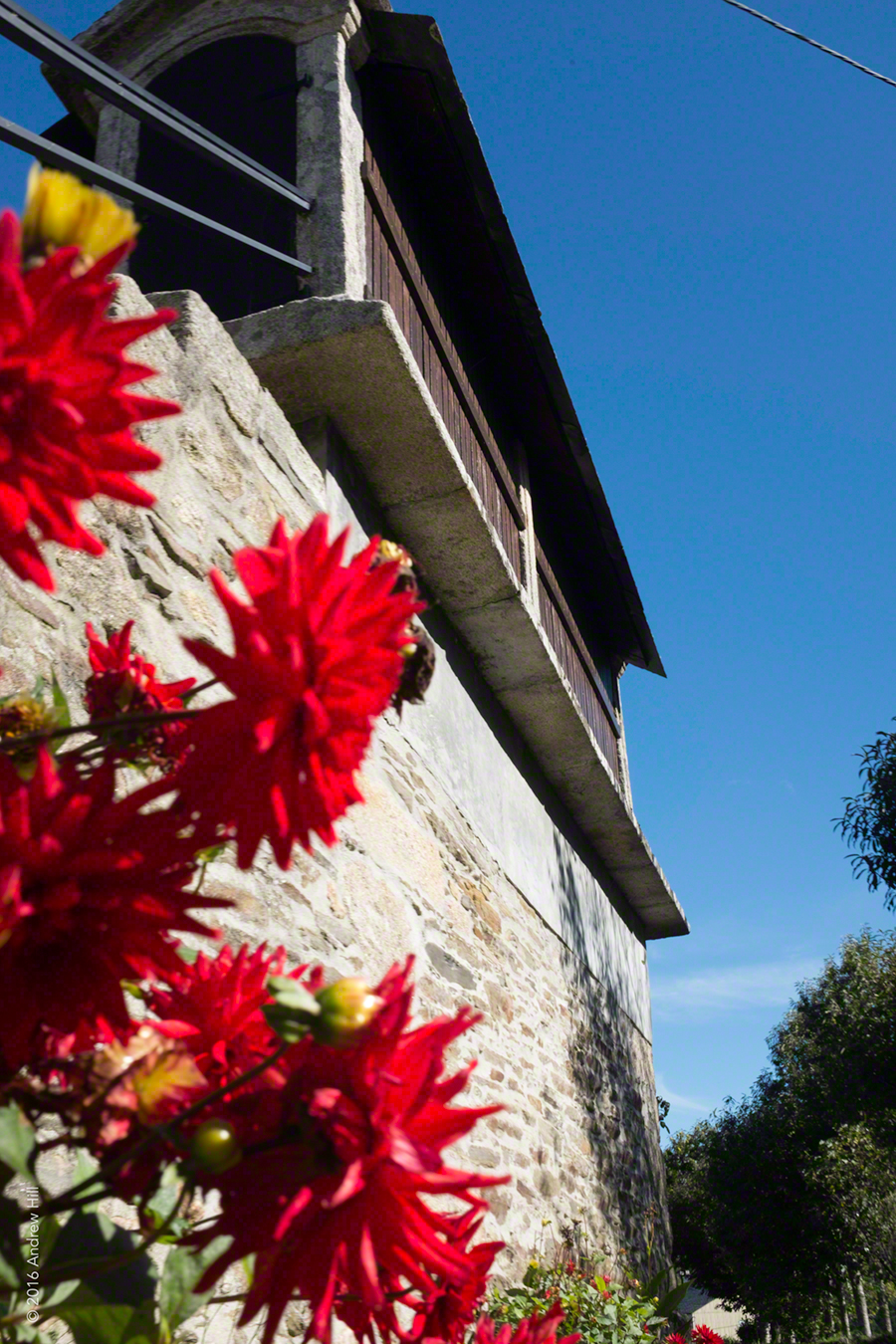 Camino del Norte Day 29: Mondoñedo to Vilalba
Long(est) day! 37/38k from 7:30 to 17:00
(not sure of distance as pedometers differ)
And realizing at the end of today that we're less than 120k from Santiago. Yowza!
This morning we walked up into the mountains, skirting ridges peppered with huge windmills. Many of them dwarfed the little ancient farms and other buildings on the hills just below the ridgeline. It was a remarkable contrast.
Leaving the coast behind has been a little sad, but wonderful as we experience new, hilly country. The wind is colder (or is it just winter coming?), and the temperature drops many degrees each time we descend into a valley between the ridges.
Our friend Johannes caught up with us about 15k in, as he's a speedy walker, so we had coffee together. He and Lisa had a good laugh at my ridiculous food choices (why did I buy a huge bag of chips? Um, salt, I guess, and something other than bread to put tomato paste on… but still an odd purchase). We then walked the rest of the afternoon together, which was MUCH less hilly than the morning had been. It was a lot of mileage for us, but the conversation made it go by quickly.
We scoped out a really cool looking albergue for tonight, and walked an extra few k through the town of Vilalba to get to it, only to find it closed this week for renovations. Ugh. None of us wanted to back track, so we opted instead for a few beers while we pondered our limited options. 20k forward to the next albergue, 4k back to the last one (which got lousy reviews), booking.com options (few, and expensive). Then, a stroke of luck! We encountered two sweet French peregrinos whom Lisa and I have seen many times over the last couple of weeks. We always say hi, but their English is poor, so we're left to my shaky French (awkward). But today I was able to say hi again, ask how their walk was, and let on that we were disappointed that the albergue we wanted was closed. They told us of their pension, around the corner (somehow aptly named 'Hotel Venezuela'), and we had a solution! I told them they were our 'etoiles' and we promised to get a beer together.
The pension is hilarious: doors opened and initial check in begun by an old couple, and soon continued with their grandson Alejandro, who arrived and immediately took us to try and find a local laundromat that would take our clothes for us and turn them around quickly. No luck, and we had to talk him down or he would have tried every place in town. His abuela, on the other hand, immediately took to Lisa, citing her Mexican accent, asking about her heritage (your great grandfather was from San Sebastian!!), and kissing her cheeks and telling her how pretty she was. Too cute.
The rooms are clean enough, warm showers, and wifi is decent, so we're all happy. We had dinner next door with Johannes, and agreed that we'd see him tomorrow, or not, depending on how everyone's walk goes. He's been enjoying his own time on the Camino, and is adamant that he'll walk when and how far he wants (word.)
Highlights from today:
Great conversations with Johannes, over all sorts of things American, German, and other
An old woman, a border collie, a tractor, a man, and a horse by the side of the road, negotiating the horse's capture
Clouds and light that changed dramatically from the coast
a very ominous and strange bunker, located on a path in the woods in a somewhat deserted valley. Would not have known what it was except that Johannes' guidebook (ahh, the amazing German guide books!) noted what it was
a border collie puppy that decided to leave its farmyard to silently follow us, and ask to be pet when I noticed and turned around
a hilarious little boy at the cash register (his mom was operating it) who wanted to give me two large cans of tuna along with my big bag of chips ('no, no honey, he can't carry those, too!' was her delicate response).