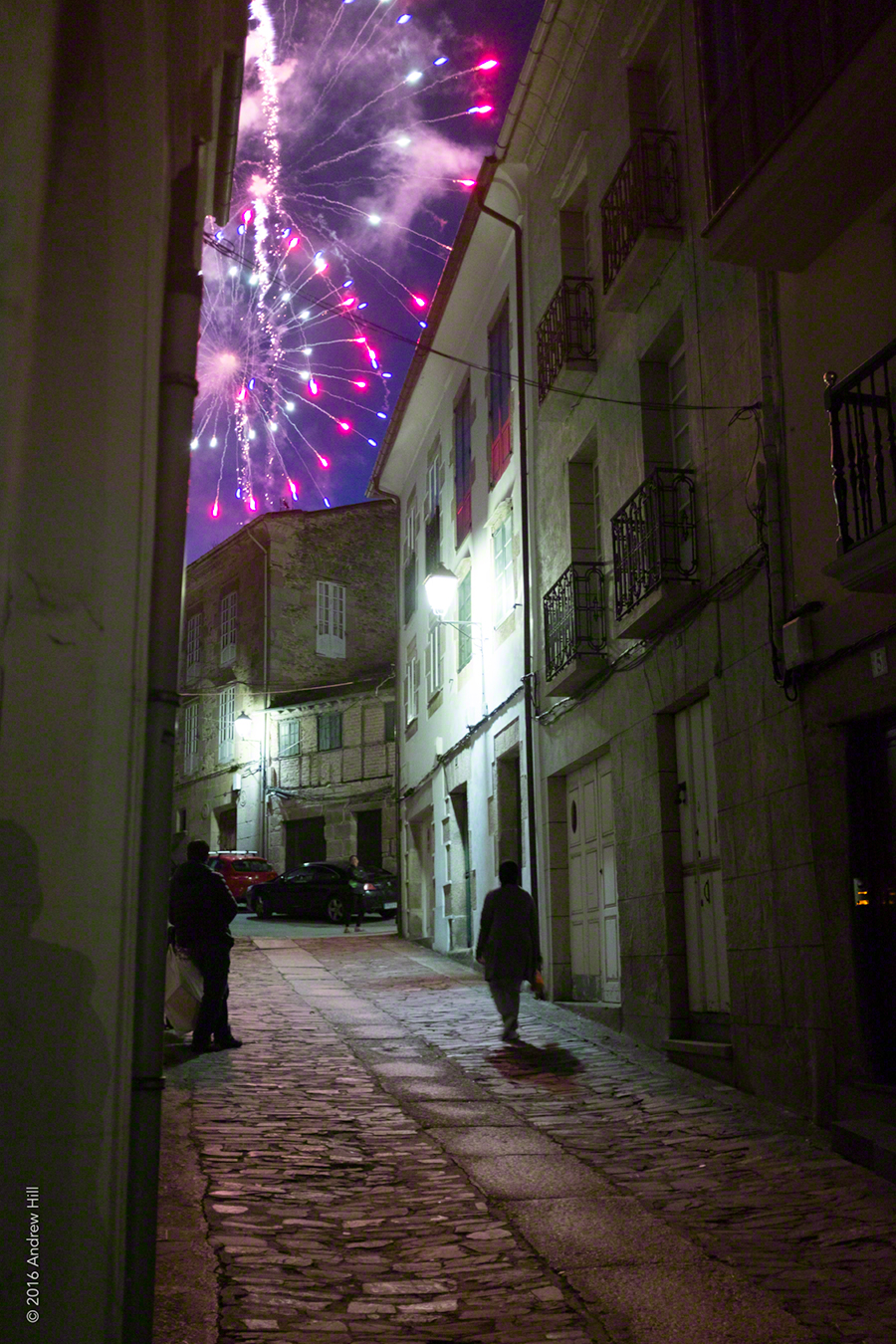 Camino del Norte Day 28: Ribadeo to Mondoñedo, Galicia
Big (biggest?) day so far: 38k from 7:45 to 17:00
We covered over 18k by lunchtime. Rolling hills, very blustery day with clear skies and the sun low. Shadows long, glare high, worthy of a New England fall day.
Happy windsday! (Sunday)
Many eucalyptus forests passed as we went through 4 or 5 valleys and over or around the hills that divided them. Some really long, steep hills that would have done us in a couple of weeks ago. Now, its paso a paso to the top and onward! Like the baby shampoo – "no more tears".
Had a little fight today, which added spice to an otherwise long and mellow walk. Got a bit separated, Drew got really cranky about it, and we came back together after Lisa was cornered by a man wanting to tell her about growing and harvesting chestnuts. Then on to a diatribe about all the people leaving town and abandoning their houses. It was a little sad, a little odd.
The second half of the day was a lot harder than the first, if for no other reason than the mileage and the resulting swollen / sore feet. We were really ready to stop when we arrived in Mondeñedo, where some sort of festival was just wrapping up. A horse show in the field next to the road into town. A little brass band playing in the street next to the cathedral plaza. Temporary rides and vendors set up throughout the little streets.
Drew poked into the cathedral and managed to bump into someone willing to unlock the office and stamp both of our credencials (we need two stamps a day from here onward, in order to get our compostela in Santiago). After a quick exploration of the cathedral ('considered beautiful for its squat proportions'), we hobbled up the alleys until we found a cute, empty albergue. No one there to check us in, and signs of one other traveler in a bunk on the floor above ours. Turned out to be Johannes, from a couple of nights back, and we agreed to wait for the check in folks (the town police, who come by and check folks in at 6:30 each night), then get dinner. Never have I been so happy to see the fuzz! Through impenetrable accents, they checked us in, and recommended a place for drinks and dinner (which we never found). We ended up back at the cathedral plaza for dinner and beer with lemonade (our new favorite vice).
At the end of our dinner, we heard huge booms, in succession, outside. I hurried out to see that there were fireworks casting light on the cathedral! We were too low/ far down in the town to see them, so we hurried up the hill via the little alleyways, catching fireworks between the buildings on the way. Turns out the show was right over our albergue! It wrapped up just as we arrived back, but it was a wonderful, unexpected treat to end a long, hard day.
Lucky, lucky us. End of week four on the trail, and we still get new surprises daily.