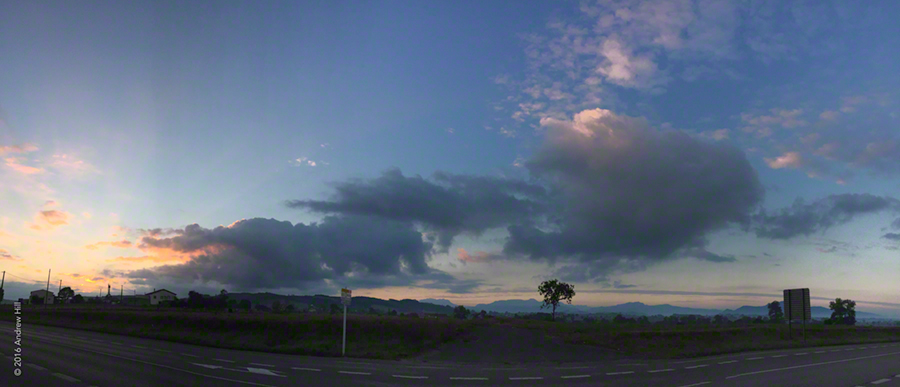 Camino del Norte Day Thirteen: Albergue la Cabaña del Abuelo Pueto to Santa Cruz de Bezana
We started the day very early, as we were both awake and not feeling particularly game for a communal breakfast like last night's dinner. (Nice as it was, we were a little overwhelmed.)
Our morning discussion of the night before was accompanied by a stunning sunrise. We opted to make time this morning, rather than take the strongly recommended coastal route with the beautiful view. Our goal was to shave a few ks off so that we could make it to the early ferry, through Santander, and onward for tonight.
While it may have been an anti-social approach, it resolved into a wonderful morning. We arrived at the ferry with two cups of coffee and chocolate croissants, and when it arrived, with our bellies full and our warm gear on, we hopped onto the nose of the ship with about 4 other people. Riding over as the clouds parted for the sun was pretty blissful, actually. In the distance we could see the Palacio de Magdalena (Lisa, correct me on this if I misspelled or mis-named it), where Gran Hotel is filmed.
After a whopping breakfast in Santander (both in terms of quantity of protein and tourist price), we worked our way out of the city, which took a little while. Our goal was to make it to Boo (pronounced, 'bow', I think) and then decide how to tackle the next challenge: the train bridge. At the aubergue they told us about a section of highway Camino that could be cut short by something like 15k simply by crossing a bridge. A train bridge, that is, which is illegal to walk, so requires a one-stop ride. However, Mountain Man and others indicated that the walk was easy, so I was game. Lisa was not convinced.
Anyway, we were both pretty tired by the afternoon, the walking had been good, and we decided to stop a bit short of Boo (about 4k before, at Santa Cruz de Bezana). While having coffee at a cute restaurant, we checked out the attached hotel, and were quickly sold. Inexpensive room with dinner and breakfast included, and we could go ahead and check in. Done, done, and done!
So here we are, off to a good night's (hopefully) sleep, and a morning of negotiating train bridges.