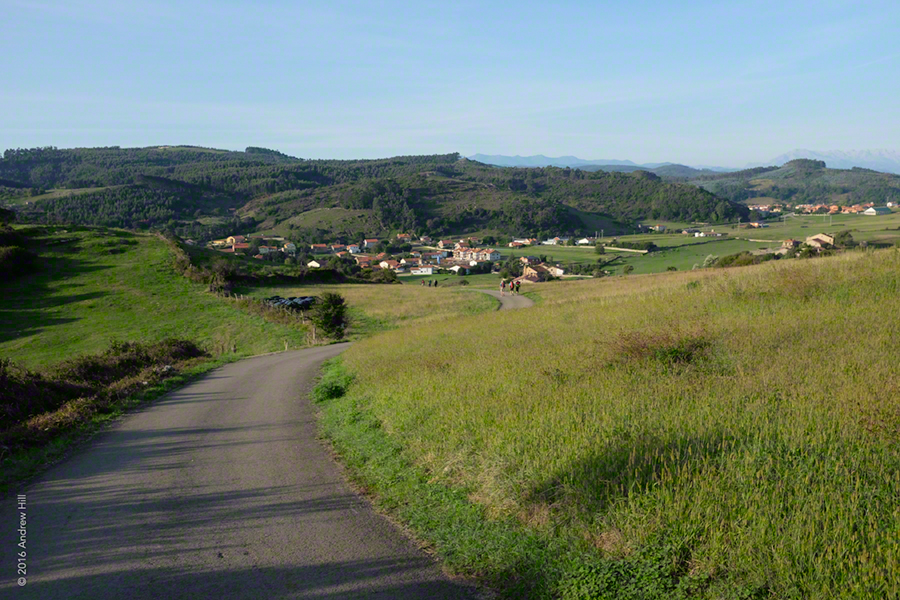 Camino del Norte Day Fifteen: Santillana del Mar to Comillas
Today was a stunning walk!
Feet didn't hurt until 13k, and at one point we lay down next to a meadow (me with my feet up the hill) just to take the pressure off for a bit. A really lovely place to stop, even though there was nothing particularly notable about it over the rest of the day. Each time we contemplated hitting a restaurant for a coke, or stopping for a picnic, we really felt like marching on, since the walk itself was so swell.
Rolling hills today, lots of beautiful small towns, and, … surprise! We re-connected with Jean! It turns out he took an extra day in Santander, and ended up on a similar schedule to ours. We had a brief catch up on the side of the road by a church, where he told us about getting lost a couple of times, and the hairy circumstances that ensued. He looks great, and seems to be having a great Camino.
We ran across a number of our other fellow Peregrinos today, and decided we would still like to lay low tonight, rather than do the social albergue 'thing'. I think we're still reeling from a few nights ago, and are enjoying our comparatively quiet and solitary walks and evenings.
So we checked into a hotel on the far end of town, where we will pick up the Camino in the morning. Dinner was more like a late lunch, joined by an hilariously overweight and apparently well known dog, Pepa. While I'm sure she wanted food, she seemed equally happy just to get a butt scratch. All of the locals who passed by called her by name.
David, the young gentleman who checked us in, was blessedly versed in English, and happy to indulge our end-of-day weariness. After giving us a certificacion stamp, he told us he'd watched not only Sunday nights Presidential debates, but all of the previous ones as well as the VP debate. When we marveled at his fluency in American politics (after commenting on his fabulous English) he said that it was a real interest of his, and he is currently reading a book on Barry Goldwater. Whaaaaaat?!?
No real dinner for us, just sleep. With earplugs. Really welcome rest.